Balancing Between Human Rights and Business Development: What is the Situation with Labour Rights in Ukraine and What are the Chances to Change It?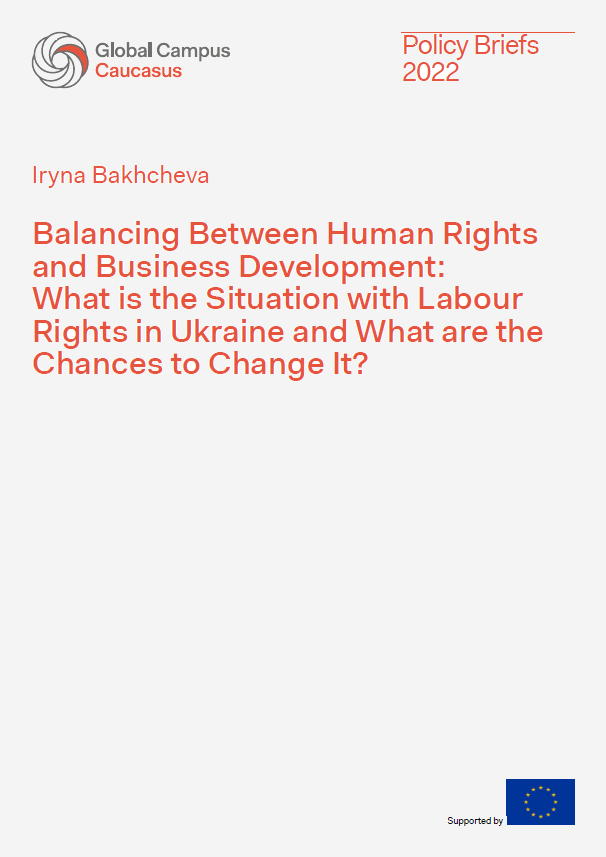 Publisher
Global Campus of Human Rights
Abstract
The topic of business and human rights received a new impetus after the adoption of the United Nations (UN) Guidelines on Business and Human Rights in 2011. This topic is extremely relevant for developing countries such as Ukraine. Over the past 30 years, Ukraine has witnessed dramatic changes in the socio-economic system and a business development boom. Business development, however, was not always contributing to improving the human rights situation. In particular, there is a problem with observance of labour rights in Ukraine with high unregistered employment, inequality in the labour market and labour legislation that does not correspond to the realities of the market. This policy brief outlines the existing legal framework in the field of labour rights and existing loopholes in the system of labour rights protection. The brief offers policy recommendations to the government on how to improve the situation and bring business on board in the promotion of labour and human rights protection. In particular, the article contains recommendations for the development of a national action plan in light of the adoption of the UN General Principles on Business and Human Rights by Ukraine in 2019.
Keywords
Ukraine

,
business

,
human rights

,
labour rights
Citation
I Bakhcheva 'Balancing Between Human Rights and Business Development: What is the Situation with Labour Rights in Ukraine and What are the Chances to Change It?' Global Campus Policy Briefs 2022 http://dx.doi.org/10.25330/1376
Collections