Traffic Surveillance and Human Rights: How Can States Overcome the Negative Impact of Surveillance Technologies on the Individual Right to Respect for Privacy and Personal Data Protection?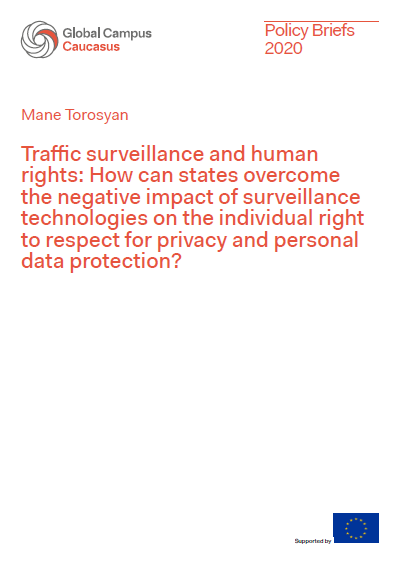 Publisher
Global Campus of Human Rights
Abstract
The crucial role of surveillance technologies for the enforcement of traffic laws and prevention of traffic accidents, as well as for the development of modern traffic management systems and regulation of traffic jams, is acknowledged widely but so far little attention has been given to human rights concerns arising from traffic surveillance. However, traffic surveillance greatly affects several individual human rights, more specifically the individual right to private life and personal data protection. In the case of traffic surveillance, interference by a public authority can be reasonably justified with the legitimate purpose of detecting traffic law violations, an action necessary 'in a democratic society' and for 'the prevention of disorder or crime'. In this regard, human rights concerns may arise not from the very fact of video monitoring, but the recording and processing of data which may create an unlawful interference with individual human rights. In the process of traffic surveillance and further proceedings in response to traffic law violations, general principles of personal data protection may be significantly affected, specifically the requirements of personal data being 'obtained and processed fairly and lawfully', 'processed for specified and legitimate purposes and not used in a way incompatible with those purposes'; 'not excessive in relation to the purposes for which they are processed'; 'preserved in a form which permits identification of the data subjects for no longer than is required for the purpose for which those data are stored'. The case study of traffic law enforcement in the Republic of Armenia (RA) reveals several examples of how protection of individual human rights may be challenged through traffic law enforcement policies and procedures and offers useful lessons for mitigating the negative impact of surveillance technologies on the right to respect for private life and personal data protection.
Keywords
surveillance

,
technological innovation

,
privacy

,
right to privacy

,
data protection

,
human rights

,
Armenia
Collections